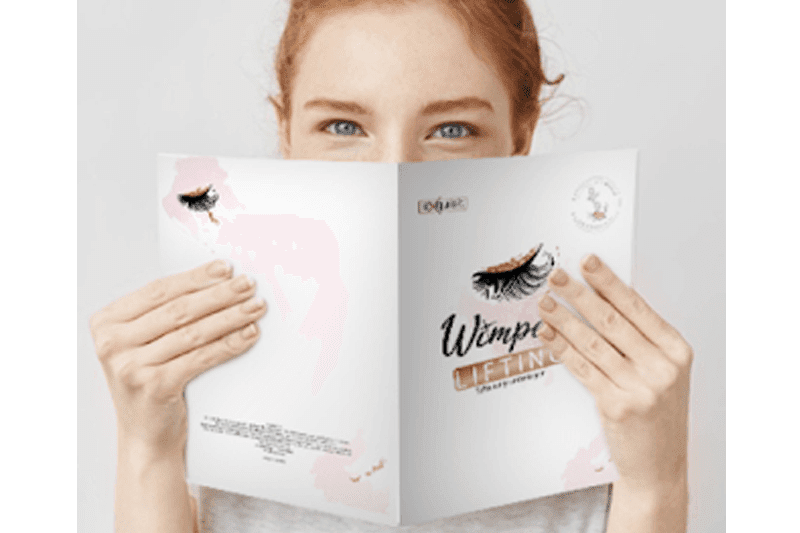 TRAINING AND WORKING FOLDER. Comprehensive training book for your own training purposes. All those who are interested in training in eyelash extensions will be very satisfied with the training folder.
Eyelashes extensions are getting trendy for the ideal look they give. They can add length, thickness and even a bit of colour to natural lashes. However, with so many different types of eyelashes extensions available, it can be hard to know which one is best for you. No need to worry now, as we have compiled a detailed guide on eyelashes extensions to assist you in choosing the right one!
What are Eyelashes Extensions?
Eyelashes extensions are basically artificial lashes that are glued to your natural lashes to give them a longer, fuller look. They come in various lengths, thicknesses, colours, and shapes, so you can customize your look. To apply eyelashes extensions, a technician will first clean your eyes and apply a gel pad to your lower lashes. They will then carefully glue the lash extension to your natural lash with tweezers. The process takes about an hour for a full set of lashes.
Different Types of Eyelashes Extensions
If you're thinking about getting lash extensions, it's important to know about the different types available. Here's a quick guide to all these types:
Hybrid lashes are a mix of both individual and cluster lashes. They are usually used for special occasions because they give a more dramatic look.
Individual lashes are single lashes that are applied one at a time to the natural lash line.
Russian lashes are multiple individual lashes that are applied to each natural lash.
Cluster lashes are small groups of 3-5 individual lashes applied to the natural lash line.
D curl lashes have a more defined curl than natural lashes, making them perfect for creating a more dramatic look.
Benefits of Eyelashes Extensions
There are many benefits of eyelashes extensions, from the way they make you look to the way they can help your natural lashes. Eyelashes extensions can give you longer, fuller, and more luscious looking lashes that accentuate your eyes and give you a more polished look.
They can also help to protect your natural lashes from damage and breakage and can even help to improve the health of your lashes over time. Whether you're looking for a special occasion beauty boost or want to enhance your everyday look, eyelashes extensions are definitely worth considering.
Tips for Applying and Maintaining Eyelashes Extensions
– When choosing a lash technician, be sure to research well and go through the reviews. It's important that they have experience with the type of extension you want to get and that they follow proper sanitation procedures.
– Before your appointment, clean your lashes with an oil-free cleanser to remove any makeup or residue. This will help the lash adhesive bond correctly.
– To clean your lashes, use a gentle, oil-free cleanser on a cotton swab or cloth. Avoid using waterproof mascara or any products that contain oil.
Conclusion
Eyelashes extensions are the perfect way to add a touch of glamour to your look without having to wear mascara.